Roland & Galina Denzel – The Great January Reset 2017
January has been amazing, with over 300 people joining us for their own Real Food Reset, 5 Minute Movement Breaks, daily inspiration, recipes, and support!
The 30 days are not even over yet, and people are already reporting…
Pounds and kilos lost
Lower blood sugar
Less hunger
Fewer cravings
Reduced allergies
Less bloating
No heartburn
It's simply amazing what a focus on Real Food can do, and we're not even 30 days in yet!
I'm not a hard sell person, so if you want to make a change, hurry up and join us while the program is free! Join now, and you'll have total access to the program for your own 30 Days of Real Food, plus daily 5 Minute Movement Breaks, and our support, plus our awesome network of amazing people!
We hope you'll join us!
Roland & Galina Denzel
---
O̶u̶r̶ ̶G̶r̶e̶a̶t̶ ̶J̶a̶n̶u̶a̶r̶y̶ ̶R̶e̶s̶e̶t̶ ̶i̶s̶ ̶L̶I̶V̶E̶!̶
Our Great January Reset 2017 is done!
The beginning of the New Year is a perfect time to take steady and confident steps to improve your diet, create lasting change and learn which are the best foods to help you thrive in 2017!
Have you ever tried a diet only to go off in a few weeks?
Have you spent hundreds on supplements only to wonder if they really worked?
Do you still wonder whether a food is good for you? How much to eat?
Are you ready for a healthy, true, and empowering transformation?
Studies show that when we start a new plan at the beginning of a new year, month or after significant milestones, like a birthday, we are more likely to create lasting change. Researchers also point out that having support, and feeling the shared joy of being a part of something greater than you helps you maintain results! To top it off – not only are we starting a new year with an incredible community of likeminded awesome people, we also have a tried, tested and delicious approach to nourishing real food to fuel it all!
Are you ready to enjoy real food, take it at your own pace and get to know what your body really needs to lose weight, feel light and energized and stay that way long-term?
Our Free Program Starts January 1st
Why free? When we wrote "The Real Food Reset", we did it after leading several live groups in our community in Orange County, California. Our book was a way to reach thousands of readers, who found us on Amazon, or browsing our website. But then they wanted recipes, meal plans, real-time support, they were eager to discuss symptoms and results. Our emails got overwhelmed and as both of us have full time jobs, we needed a solution. It was clear that the time had come to create an online community to reach every corner of the world. When we started brainstorming the format, we felt a longing to reach everyone who needs us.
We wanted to give as many people as possible the chance to experience the gift of real food, and with that, we wanted you to have as few things standing in the way as possible, including money.
But here is the catch – even though the program is free, it comes with an investment. This is where you come in.
What we want is the investment of your willingness, commitment and open curiosity! We want you to do your best, come out feeling incredible at the end and continue on this path for years to come.
You can pay it forward later. If you love the program, it will be paid after this January run, and you can thank us by sharing it with your friends and community.
Until then, enjoy it for free and feel your absolute best!
What are these books you mention?
The 30 days of real food is based on our bestselling books The Real Food Reset and Eat Well, Move Well, Live Well – 52 Ways to Feel Better in a Week. The guided coaching program is one of several online tools we have created to support real life transformation available to anyone from the comfort of their phone, tablet or PC!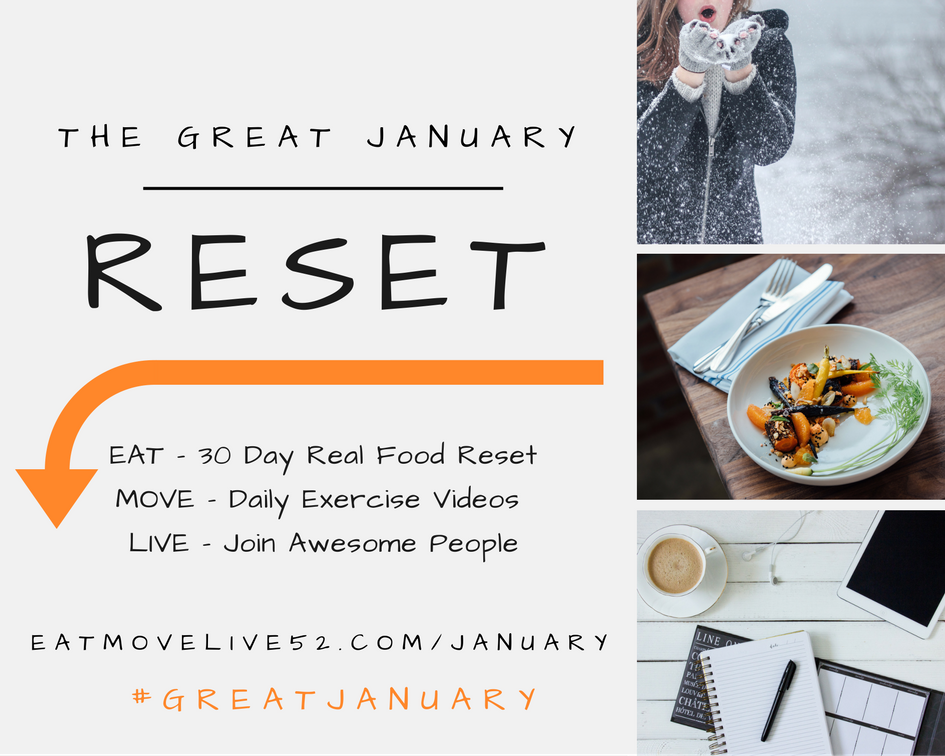 Tired of being overweight despite watching what you eat?
Fed up with cravings?
Feeling tired in the afternoon?
Have you lost your drive to move and exercise?
Are you riddled by chronic aches and pains?
1 month can make a tremendous difference!
Unlike a diet, detox, or fast, The Real Food Reset develops healthy eating habits that become the basis for perfect health for the rest of your life.
The REAL FOOD Reset
is easy, based on real food, and no gimmicks program
frees you from food cravings
feeds your body the food it really needs
reawakens your lost instincts and helps eat intuitively
naturally controls your appetite
reduces thinking about food
helps with conditions related to inflammation
It's not about dieting, it's about Real Food!
But wait, there is more!
If you want the whole package this January – join us for two more components of a well-rounded healthy lifestyle: move with the videos we post on Facebook and Instagram and join our community of awesome people going through the program, just like you!
Facebook group link
Facebook page
Instagram @galinadenzel @rolanddenzel
The 2017 Reset has wrapped up! Stay tuned for announcements on upcoming projects!
Course led by
Roland & Galina Denzel
Roland Denzel is a weight loss coach whose first client was himself!
Overweight his first 35 years, he lost over one hundred pounds in 2003, and has kept if off since. Along the way, Roland developed a passion for health, fitness, and nutrition that's not only kept him slim and healthy, but allowed him to help others just like himself through his writing and coaching.
Roland is an IKFF trained kettlebell coach, a certified personal trainer, and is a sports nutrition and weight loss coach through Precision Nutrition. He has co-authored five books, including The Real Food Reset, and Man on Top, which was inspired by his own journey to becoming healthy, slim, and fit. Roland's latest book Eat Well Move Well Live Well, coauthored with Galina, won the 2017 Foreword Indie Gold!
Galina Denzel is a movement teacher and Somatic Experiencing Practitioner. She helps her clients return to a life of functional movement after an injury, accident, or trauma through a variety of corrective exercise methods and healing modalities.
Galina is a Nutritious Movement™ certified Restorative Exercise Specialist and certified personal trainer, nutrition coach, author and educator. She is the co-author Eat Well Move Well Live Well, The Real Food Reset and Man on Top, plus The Art of Real Food in Bulgaria.
Together, Galina and Roland have a thriving health coaching practice, serving clients worldwide, and locally in Orange County, California. Galina and Roland write and podcast regularly at EatMoveLive52.com, and their latest award-winning book Eat Well, Move Well, Live Well – 52 Ways to Feel Better in a Week, is available where all fine books are sold.
Program & Curriculum
March 1st Update – Want to own the Reset?
Introduction
Welcome to your Real Food Reset (3:07)
Managing your time and ensuring success (5:44)
How to stay motivated on your Reset (5:01)
Preparing for your Real Food Reset
Real Food Basics and The Real Food Reset Manual for download (12:40)
Shopping list
Refrigerator reference sheet
Improving your metabolism with movement and daily movement breaks (21:53)
Balancing your life to support your Reset (26:14)
Start the Real Food Reset – Days 1 to 30
Sample meal plans
Fill out the symptom tracker
Log your first three days
Recipe library
Listen to "The Power of Detox"
Meal preparation shortcuts for busy days
Restaurant strategies (5:44)
All is well that ends well – how to finish your Reset strong
Video: Reintroducing foods and tracking your symptoms (14:01)
Fill out the symptom tracker
List of foods to reintroduce
Journaling questions to make the most of your Reset
What's next? (3:56)
Daily movement breaks – as seen in the Facebook group daily!
5 minutes to better digestion using a chair (6:21)
5 minutes for the hips using a chair (6:41)
5 minutes for the back of the legs using a chair (5:13)
5 minutes to relax the neck & deepen the breath – sit on floor or chair (6:19)
5 minutes for the spine – on all fours (5:27)
5 minutes for the neck and the eyes (5:54)
5 minutes of scapular motion and a lot of emotion (8:36)
Psoas release – 5 min or more <3 (7:37)
5 min to open the chest and back with a door (6:24)
5 min to prep the hips for walking – using a door (5:15)
5 minutes to open the chest – wall angels and wall slides (6:12)
5 minutes to crawl on the floor (5:16)
5 minutes to honor our hard working hands (6:01)
5 minutes to prepare for bed with rest and digest (6:54)
Going up and down the stairs in a squat – 5 min killer (5:30)
5 min to use a book to give your upper body a movement break (5:53)
Ankle mobility 1 – 5 min to work with the back of the ankle (6:04)
More for the front of the ankle – part 2 of the 5 min ankle breaks (5:40)
Bed time hip opener – 5 minutes to undo sitting (5:50)
Hip flexion is amazing. Watch and do. 5 minutes to greatness. (5:28)
Core stability and the faux plank (5:11)
Explore ways to get off the floor (7:56)
Let's take a standing break – 5 minutes awesome for work (7:54)
Typing break (6:06)
More balanced in 5 min (6:45)
Shoulder S break (5:58)
Hip opening and a guest appearance (5:15)
Flexion time. 5 min of love for the spine! (5:32)
That bird-dog break (6:42)
Core break day 2 (5:41)
5 min for the core part 3 (5:14)
Here comes 2020!
Are you ready for The Great January Reset 2020? (3:15)
---
Sale page: https://betransformed.teachable.com/p/januaryreset
Archive: https://archive.ph/wip/ibOzg

Delivery Method
– After your purchase, you'll see a View your orders link which goes to the Downloads page. Here, you can download all the files associated with your order.
– Downloads are available once your payment is confirmed, we'll also send you a download notification email separate from any transaction notification emails you receive from imcourse.net.
– Since it is a digital copy, our suggestion is to download and save it to your hard drive. In case the link is broken for any reason, please contact us and we will resend the new download link.
– If you cannot find the download link, please don't worry about that. We will update and notify you as soon as possible at 8:00 AM – 8:00 PM (UTC+8).
Thank You For Shopping With Us!